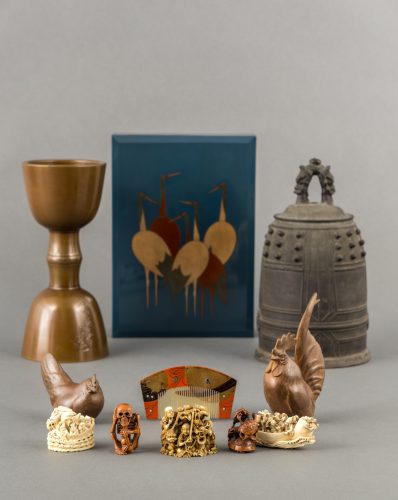 Thursday April 6 2017
Modern and Classical Japanese Art at Veilinghuis Peerdeman- 21 May in Utrecht
On Sunday 21 May 2017 Veilinghuis Peerdeman in Utrecht will hold an extra auction of modern and classical Japanese art, mainly of netsuke, but kakemono, porcelain and ceramics, tsuba, ukiyo-e, bronzes and lacquer will be offered as well.
Veilinghuis Peerdeman cordially invites all to the viewing days preceding the auction:
Friday evening 19 May from 18:00 until 21:00,
Saturday 20 May from 11:00 until 17:00
Sunday 21 May from 10:00 until 15:00.
The catalogue will be available online one week before the sale.
Veilinghuis Peerdeman B.V.
Tennesseedreef 18-20
3565 CJ UTRECHT
The Netherlands
Telefoon: +31(0)302610485
E-mail: receptie@veilinghuispeerdeman.nl
Website: www.veilinghuispeerdeman.nl