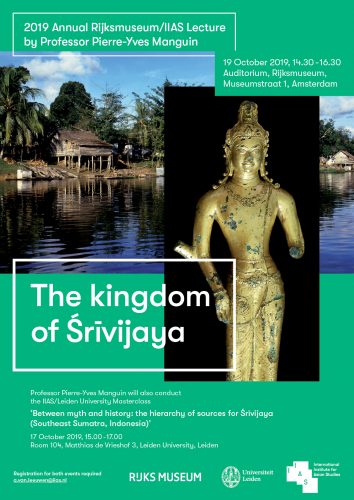 Annual Rijksmuseum / IIAS Lecture by Professor Pierre-Yves Manguin
The Rijksmuseum and IIAS invite the KVVAK members to attend their yearly lecture, this year on 19 October from 14:30-16:30 in the Rijksmuseum's auditorium by emeritus professor Pierre-Yves Manguin.
"The kingdom of Śrīvijaya"
A century after its "discovery" by George Cœdès, what is the current state of knowledge about this powerful Malay maritime polity? How can such a prestigious kingdom in its time remain so elusive for archaeologists and historians today? Its origins, the location of its political centre in Southeast Sumatra, its territorial extent, the nature of its political and cultural influence have all been the subject of heated debate since 1918. Research carried out during the last three decades has settled many issues, but still leaves numerous riddles unanswered.
Pierre-Yves Manguin is emeritus professor at the École française d'Extrême-Orient (EFEO, French School of Asian Studies). His research focuses on the history and archaeology of coastal states, trade networks, and ships of Southeast Asia. He has led archaeological work in Indonesia (South Sumatra and West Java) and Vietnam (Mekong Delta) and published on themes related to the maritime history and archaeology of Southeast Asia, the Indian Ocean and South China Sea.
Registration
Registration by email via a.van.leeuwen@iias.nl