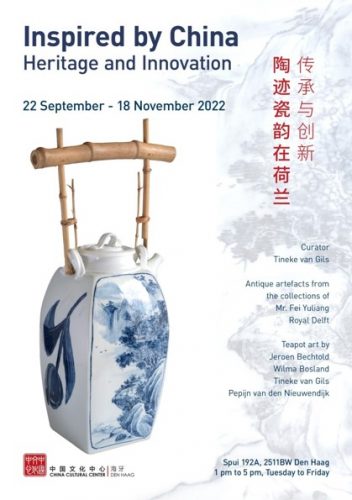 In Conversation With Curator and Artists: 'Inspired by China, heritage and innovation'
On Thursday 20th of October, the ceramics committee is organising a meeting at the Chinese Cultural Centre The Hague from 2pm to 4pm.
On the occasion of the exhibition 'Inspired by China, heritage and innovation', Jeroen Bechtold and Tineke van Gils will present their work in the Chinese ceramic cities: Jingdezhen, Yixing and Dehua. This will be followed by time for questions and discussion and a guided tour by both artists. The afternoon will end with a tea reception.
The common denominator in this exhibition is the teapot, an originally Chinese product that reached Europe along with tea in the late 16th century. Four Dutch ceramic artists, Tineke van Gils, Jeroen Bechtold, Wilma Bosland and Pepijn van den Nieuwendijk, who all have a connection with the teapot to a greater or lesser extent and each in their own way, worked independently with porcelain and clay in China. Their work is on display in this exhibition.
Information:
Location: CCC, Spui 192A, The Hague
Reception at 13:30 hrs, start at 14:00 hrs
The location is easily accessible by public transport.
Parking is available in the nearby Stadhuis garage on Spui 170A.
Entrance is free.
Please consult the website in connection with any corona measures: www.ccchague.org
Registration was possible by 10 October at the latest