Of Temple Phantoms and Bell Murders: Images of Buddhism in the Judge Dee Mysteries and the 'Oriental Idol' in the 20th century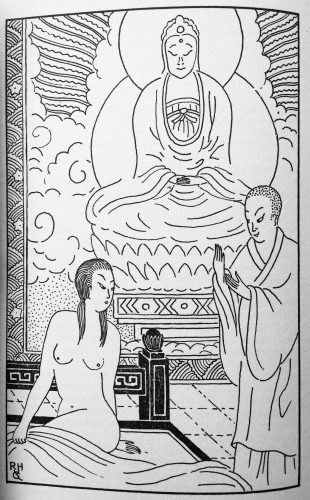 Western popular engagement with Buddhism has increased dramatically in the last century. Religious icons for collection and display and representations in literature, art and mass media such as film, television series and comic books have led to wider exposure to this Asian religious tradition. Nonetheless, patterns of representation have often gone unchallenged and unseen (Iwamura), and many modern and contemporary images of Buddhism in the West echo the fear and fascination that have for centuries been associated with the concept of the Buddha as an "Oriental idol", or an object of both suspicion and romanticization. In this context, Robert van Gulik's Judge Dee Mysteries occupy a unique position. Composed and illustrated by an outstanding scholar of East Asian culture, these novels complicate ideas of Western understandings of Buddhism in the early 20th century, and are also very different from later Western conceptualizations of the religion. This paper will focus on three titles from the Judge Dee Mysteries: "The Chinese Gold Murders", "The Chinese Bell Murders" and "The Phantom of the Temple". In these three novels, the Buddhist temple is the setting for stories about the smuggling of gold, monks of dubious reputation, and a haunting phantom. The paper will elaborate on the text, as well as on the illustrations: what do the novels, through their protagonists' thoughts and actions, say about Buddhism? And how do Van Gulik's illustrations compare to contemporaneous depictions of Buddhism in Europe and the US? Western captivation with Buddhism includes such varied examples as early European writings in which the Buddha is seen as an immoral figure worshiped by pagans, "Zen" as a source of inspiration for literature, art, advertising and an "alternative lifestyle", the phenomenon of "mindfulness", and martial arts movies and games. This paper will discuss how Van Gulik's stories and visual representations in the Judge Dee Mysteries add to and challenge the larger cultural discourse on Western fascination with Asian religions and "Asian spirituality".
Paramita Paul is a lecturer at Amsterdam University College, where she teaches the courses "Introduction to Visual Methodologies", "Visual Culture", "Art in China" and "Global Modern and Contemporary Art". She was trained in Sinology, has specialized in art history, and received a Ph. D. from Leiden University for her thesis "Wandering Saints: Chan Eccentrics in the Art and Culture of Song and Yuan China". Her research interests include premodern and modern Zen and Buddhist art, as well as issues of art, heritage and cultural identity. Recent publications include "Into the New Wonder House: Visual Images and World-Making in a
Buddhist Temple in Chinatown Amsterdam" (Journal of Chinese Overseas, 2018) and "The Eccentrics of Istanbul: Chan, Art, and Cross-Asian Networks in the Ming" (Ming Studies, 2018).