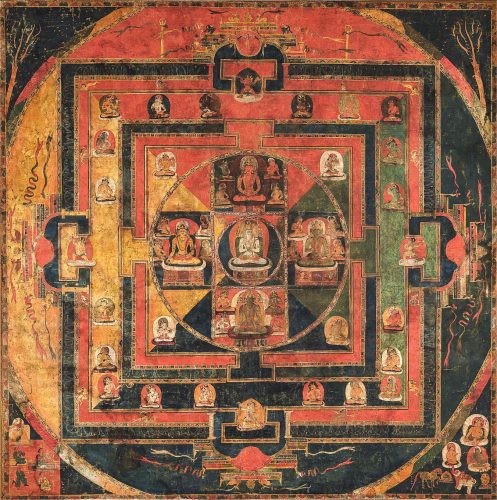 IIAS Lecture by Christia Luczanits: The Vajradhātu Mandala – Variations on a theme of Early Esoteric Buddhism
The KVVAK invites you to join us on Friday November 5th at 15.30 hours for a public IIAS lecture at the Rijksmuseum Amsterdam by Dr Christian Luczanits. The Vajradhātu mandala lies at the root of esoteric Buddhism throughout Asia. Among others, Dr Lucasznits will show how important this mandala is for understanding how mandalas depictions develop and how newer esoteric Buddhist ideas influence its appearance in Tibetan Buddhism.
The Lecture
Among all esoteric Buddhist subjects, the Vajradhātu mandala* occupies a pivotal place. It not only introduced the decisive series of the five esoteric Buddhas but also spread throughout the Buddhist world. From the eighth to the twelfth centuries, it effectively represented esoteric Buddhism.
As is typical for early esoteric Buddhist topics, neither the concept of the five Buddhas nor the mandala itself are static entities. Various ideas of five Buddhas occupying a cosmic space are conflated. Local interpretations result in different iconographic solutions, and newer esoteric Buddhist trends impact the understanding of the mandala itself.
In this lecture, Dr Christian Luczanits will introduce the Vajradhātu mandala and its variations across time and space. He will demonstrate the wide relevance of this topic, its importance for understanding how mandala depictions develop and how newer esoteric Buddhist ideas impact its appearance in Tibetan Buddhism. The speaker will also present expressions of this mandala from across the ancient Buddhist world and explain the existing variations represented in the early monuments of Alchi Monastery. This monastery in Ladakh, India, boasts murals dating back to the late 12th and early 13th centuries.
* The Vajradhātu Mandala is a shorthand for the main mandala of the Compendium of Principles of all Tathāgatas Tantra (Sarvatathāgatatattvasaṃgrahatantra).
The speaker
Dr Christian Luczanits is the David L. Snellgrove Senior Lecturer in Tibetan and Buddhist Art at the Department of History of Art and Archaeology, SOAS, University of London.
Programme
14:45 – 15:30 registration, coffee/tea
15:30 – 15:40 Welcome by Anna Slaczka, curator of South-Asian art at the Rijksmuseum
15:40 – 16:30 Lecture by Dr. Christian Luczanits, SOAS
16.30 – 17:00 Questions and answers, guided by Anna Slaczka
For this event we follow government guidelines. We will ask you for a corona check at the entrance. This can be a negative test result, a vaccination certificate or proof that you have recovered from corona. You can show us these corona proofs with CoronaCheck or via CoronaCheck.nl. Thank you for your cooperation.