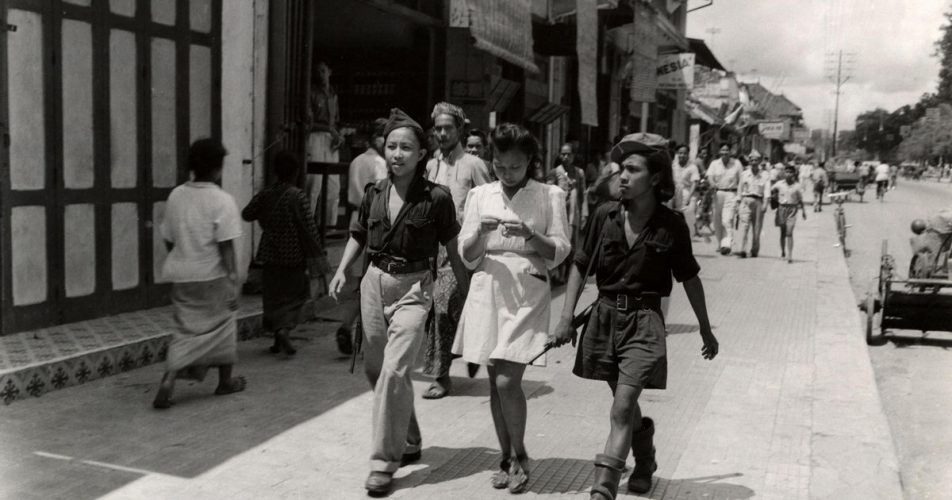 With Rijksmuseum Friends around the Table: Revolusi!
The KVVAK invites you to the third edition of With Friends around the Table: Revolusi! This will take place on 31 March at 7 pm.
During the third edition curator and compiler of the exhibition Harm Stevens will tell more about Revolusi! and researcher and curator Maria Rey-Lamslag will explain the public programming around the exhibition. Gerard van Santen, whose family history is part of the exhibition, will also speak. Subsequently, there will be an opportunity to discuss the exhibition in an informal setting with several experts and people involved in the exhibition.
As with the Slavery exhibition, the revolution in Indonesia is a complex subject. The Rijksmuseum is happy to discuss this with the Friends of the Rijksmuseum and the KVVAK.
Program
18.45 – 19.00: Entry, Auditorium and Foyer open
19.00 – 19.45: Lectures by Harm Stevens, Maria Rey-Lamslag and Gerard van Santen
19.45 – 20.45: Informal round table discussions in the Foyer: ask questions, exchange thoughts and share stories with experts and Friends
20.45 – 22.00: Visit Revolusi!
22.00: End
Exhibition Revolusi! Indonesia Independent - until June 6, 2022
The Rijksmuseum is the national museum of art and history. Through exhibitions, we tell stories about the Netherlands that stimulate dialogue and offer different perspectives on the collection. We do this by placing our collection in an international context and also by addressing socially relevant themes that have not been adequately highlighted up until now. In February, the exhibition Revolusi! opened, about the ardent pursuit of a free Indonesia after a long period of colonial rule. By zooming in on personal stories of people who experienced it in the years 1945-1949, it becomes clear that this history has many faces and voices. A team of Indonesian and Dutch curators brings together stories, historical objects, artworks, propaganda posters, films and photographs as witnesses to this turbulent past.