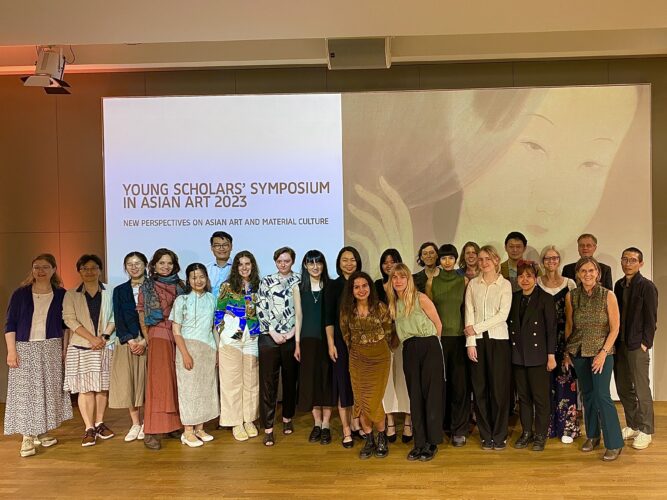 donderdag 6 juli 2023
Looking back at the KVVAK Young Scholars' Symposium 2023
On 17 June the KVVAK organized the 1-day Young Scholars' Symposium in Asian Art 2023, the fourth symposium in the series of KVVAK Young Scholars' Symposia. The symposium was entitled 'New perspectives on Asian art and material culture', because all of the presenters (BA and MA students, PhD candidates and early career researchers) presented work that offers new perspectives and approaches to the art and material culture of Asia and the exchange between Asia and Europe.
From the closing remarks from Anne Gerritsen, Chair of Asian Art: "We heard an amazing range of papers, covering a wide range of countries (including Vietnam, Korea, Japan, China, France, Britain, Hong Kong, India, Indonesia, Peru); a variety of surfaces (pith paper, ceramics, metal, wood, skin); numerous different types of objects (from coaches and matrices to prints and cabinets), via lots of different disciplines: anthropology, art history, history, cultural studies, history of collecting, material science and restoration, empire and colonial history. What a wonderful range! But it was especially wonderful to have these papers delivered by such a varied group, bringing all kinds of ideas, identities, experiences, outlooks, perspectives, thoughts, analyses and questions to bear on their research. Where would we be without all of you? And when I say 'we': I mean we here in the museum, we the members of the KVVAK, we in academia, we here in the Netherlands. We need people like all of you to contribute to this clearly very dynamic and wide-ranging field of art and material culture of Asia!"
This event has been made possible thanks to the help of numerous individuals and organizations. The include the KVVAK, Ikigai (KVVAKk's young professions' network), the Rijksmuseum, and the National Museum of World Cultures. The symposium was supported by the Chair of Asian Art at Leiden University, in turn sponsored by the KVVAK, the Hulsewé-Wazniewski Foundation, the Isaac Ailion Foundation, the Jan Menze van Diepen Foundation, J.M. Boll (1942-2020) and P. Boole-Kruseman and the heirs of E. Veder-Smit.
The KVVAK is especially grateful for the generous support of Pauline Kruseman and the Van Gulik Estate. Thanks to their financial contribution, we could make this symposium such a memorable event at the Rijksmuseum.
Click here to view the program in pdf-format.

Click here to view photo-impressions of the event.

Watch the recording of the symposium below or via this link.